Premium Legal Services

without the Boston premium
The Importance of Estoppel Certificates for Owners and Lenders of Rental Properties
Blog
,
Real Estate
Posted in on April 4, 2016
The purchase or financing of rental real estate, whether commercial or residential, involves a long list of "due diligence" or homework, that a prospective purchaser or lender must undertake to eliminate or at least reduce the financial risks of this type of real estate investment.
Most people are familiar with the "big things" involved in real estate purchases and financing: the Registry of Deeds title examination to determine whether the title is clear, the Municipal Lien Certificate issued by each city or town's tax collector to establish what, if any, back taxes or other municipal liens or betterment assessment are outstanding, final water/sewer/trash and sometimes municipal electric readings to insure no amounts are outstanding and unpaid, plot plans and surveys to determine where the buildings are located on the property, Title V (or septic system) inspections to insure the system is functioning properly and of course building or home inspections to determine the status of the basic structure and systems.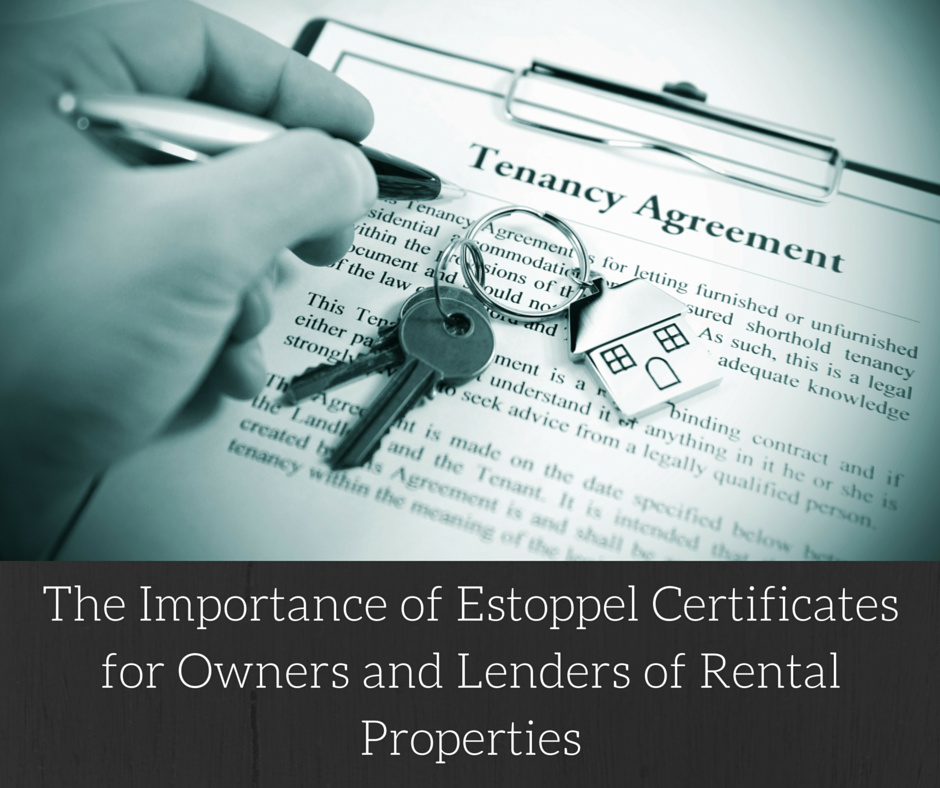 But when dealing with rental properties that are not vacant, a prospective purchaser or lender needs to establish what rights the tenants or other occupants may have that may seriously affect the purchaser or lender. Since a tenant's rights in a lease or other rental agreement are not usually terminated by a sale or a new mortgage, it is important to minimize the risks associated with tenant or occupant rights.
Take for example a purchaser or lender who is buying or refinancing a property that is currently tenanted. Most lenders are happy and may even require a building to be leased out as a condition of financing underwriting, since the lender is looking to see a rental income stream. The buyer and lender see the stated monthly rental income stream needed to support the purchase and loan. But what do you think would happen if after the purchase or financing closing, the owner finds out that the tenant has pre-paid rent for two years and is not required to make any payments during that time? Suffice it to say, that the owner and perhaps the lender would be very unhappy to learn that they would have no rental income on the property for the next two years!
The standard practice thus, to reduce the likelihood of this unhappy state of affairs, is what is known as an Estoppel Certificate. This is a document to be signed by each tenant or occupant of a property, stating that the lease or rental agreement is in full force and effect, is not in default and that no pre-payments or advance rent has been paid other than sums specifically stated in the Certificate. This Certificate then becomes the new owner's and lender's evidence that none of the tenants can claim that the lease is in default or that they have already paid rent for future occupancy and are not required to make normal rental payments to the new owner.
This is just one example of why it is necessary to have legal counsel experienced in what needs to be done to insure a buyer or a lender that the risks inherent in all transactions are kept to a minimum or can be insured over by appropriate title insurance.
If you are contemplating the purchase of commercial or residential rental properties and would like to come in for a conference to discuss how these and other procedures can reduce your investment risks, give us a call to schedule an appointment with our real estate attorneys in Quincy. – Lawrence DiNardo